Rencontres des Inédits: retour de Prague

Cinémémoire a participé aux Rencontres annuelles de l'association INEDITS Films amateurs / Mémoire d'Europe au National Film Archiv / Národní filmový Archiv, Cinema Ponrepo, Prague, du 30 octobre au 1er novembre 2014.

Des journées professionnelles sur la thématique "à travers le rideau de fer", du 30 octobre au 1er novembre 2014.Jeudi 30 octobre 2014
PROGRAMME DES 24ème RENCONTRES DES INEDITS
Jeudi 30 octobre 2014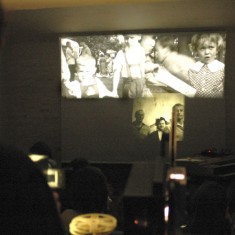 19h : Mr. Roman (55 min), une performance de Martin Ježek, Freudl, Procházka
Les films 8 mm d'une famille tchèque inconnue, tournés entre 1955 et 1981, deviennent le matériau d'un spectacle conçu pour deux projecteurs 8 mm, deux projecteurs de diapositives, une guitare, un orgue électroacoustique et un magnétophone. Le personnage central de cette performance est « Monsieur Roman », filmé de son enfance jusqu'à l'âge adulte. Le spectacle est une partie d'un projet de plus grande ampleur intitulé Ekran.
8 film rolls showing the life of an unknown family became one of the film materials used in the work on the piece EKRAN. The projection of two film projectors and 2 slide projectors is accompanied by live music played on pre-digital electrophonic instruments.
Vendredi 31 Octobre 2014
9h30-11h : Présentation d'Inedits et des nouveaux membres: l'ECPAD (Établissement de Communication et de Production Audiovisuelle de la Défense)et la BDIC (Bibliothèque de documentation internationale contemporaine)
11h30-13h : Projets des membres
Enquête sur les collections de films amateurs en Europe (pour les 25 ans de la Charte de SPA) par Alain Esmery, Président de l'association.
Pour répondre à cette enquête, contactez-nous, (avant fin 2014) nous vous transmettrons le formulaire.
Du film au fichier numérique : l'aventure d'une migration par Laurent Trancy (Archives audiovisuelles de Monaco)
Archiver et échanger des contenus numériques (Société FP Digital et Margot Lestien – Cinémathèque des Pays de Savoie et de l'Ain)
14h-15h : Table ronde 1 : Journaux filmés et films de familles / Film Diaries and Home Movies
Avec Evženie Brabcová (réalisatrice et monteuse, Prague), Martin Koerber (Deutsche Kinemathek, Berlin)
Amateur Films of the Czech Surrealist Ludvík Šváb
By Evženie Brabcová
"Ludvík Šváb (1924-1997) is one of the most outstanding yet little-known figures shaping the context of amateur filmmaking in former Czechoslovakia. A psychiatrist by profession, a surrealist and filmmaker by heart.
His work can be divided into following categories: private footage, travel diaries, film etudes and experiments. He mainly filmed his friends and colleagues from the Surrealist group /V. Effenberger, M. Medek, J. Švankmajer etc./ We can also characterize him as an author who experiments with the idea of subjectivity and psychoanalytical methods.
The paper is focused not only on Ludvík Šváb´s work /completed films but also on raw materials and unfinished films/, which enables me to conclude that his work does not have to be viewed solely within the context of amateur film. The shift from understanding his work just in the amateur film framework to the perspective of subjective or experimental film, might provide fresh insight into the role played by amateur film making in the constitution of unofficial and independent cultural identity in communist period in Czechoslovakia, and more generally, in the whole Eastern Block."
Evženie Brabcová, filmmaker, Czech Republic
As a filmmaker interested and focused on archival film footage, esspecially small gauge formats and non professional production. Author of Super 8mm experimental films (Pan Mireček, 2008, The Weekend House 2013). Practical experience with film archive workflow from LUX in London and NFA, Prague.
The Private is Political - Christine Krüger's Films from Potsdam
By Martin Koerber
"Christiane Krüger worked as a teacher, and let a seemingly conformist life, even though she was of Christian belief, but didn't tell anyone of her cricital views. Hence the films are totally "harmless", but reveal a lot about the rituals and goings-on of a "normal life" in East Germany.
A camping holiday in the mountains near. Western relatives arrive with their Mercedes, and all the men gather and discuss it. Portrait of the little garden-colony where the family grows their vegetables. Portrait of the school where Ms. Krüger was working. Finally: After years on a waiting list the family finds a new apartment in a newly built block and enthusiastically documents how nice it is to have central heating and warm water for the first time.
Most films were made in the context of an organized film club and thus under the usual control, and they were entered in competitions of Amateur clubs and did win awards. A "conservative" form was thus de rigueur. The films, which are seemingly naive, and just record "what it was like", which by now we have already almost forgotten."
Martin Koerber, Deutsche Kinemathek – Museum für Film und Fernsehen, Germany
Studies in Media, Art History and Musicology at Freie Universität Berlin. Odd jobs in film production, mostly of experimental and documentary films during the 1980s.
Since 1988 restoration of numerous German classic films, among them M, TESTAMENT DES DR. MABUSE, MENSCHEN AM SONNTAG, METROPOLIS, to name a few.
Since 2003 Professor for restoration of photography and Film at Hochschule für Technik und Wirtschaft, Berlin, and since 2007 also curator of film dept at Deutsche Kinemathek – Museum für Film und Fernsehen.
15h30-17h : Table ronde 2 : Le mouvement du cinéma amateur et des clubs de cinéastes amateurs / Amateur Film Movement and Amateur Film Clubs
Avec Magdalena Staroszczyk (Museum of Warsaw), Paulina Haratyk (Jagiellonian University, Cracow), Eva Näripea (Estonian Film Archives, Tallinn)
46 Years of SAWA. Amateur Films in Warsaw
By Magdalena Staroszczyk
"Main subject of presentation are amateur footage made in Warsaw and the activity of Warsaw amateur film clubs. In this context I'd focus on SAWA - a club that has started activity in 1968 and functions till now. During this time the club members created more than 235 films (and won over 470 awards, including three UNICA gold medals). In this case study I would like to tell how the club worked (and what emerged in the films) in subsequent periods of People's Republic of Poland and after 1989.
This research is somehow connected with The Local Film Memory - a program in The Museum of Warsaw (Wola district) which has started in 2014 and which I'm coordinator. Program is aimed at collecting amateur footage made by the inhabitants of Warsaw and the visitors in Warsaw as well as neglected footage made at amateur film clubs. Creating a collection of home movies is not only creating the base for processing and research, but mainly archive of local memory, which allows the activation of the inhabitants of the place. The Local Film Memory program includes workshops, screenings and cultural animation in Wola district. It is an experience that I willingly share during the conference."
Magdalena Staroszczyk, Museum of Warsaw (Wola district), Poland
Studies at University of Warsaw, Institute of Polish Culture and at Academy of Fine Arts in Warsaw, Faculty of Conservation and Restoration of Works of Art. She specializes in preparing of educational workshops and cultural projects.
The Enthusiasts? An Amateur Filmmakers Movement from the Period of Polish People's Republic
By Paulina Haratyk
"Amateur filmmakers movement was an incredibly popular phenomenon in Poland during the communist era. Over 200 AKFs had been active in the 60s. Although this movement is significant for the independent culture of PRL and bridged the gap between official and independent culture, it still waits to be properly described. The only contemporary study on this topic is a project of Marysia Lewandowska and Neil Cummings titled "Enthusiasts from Amateur Clubs", shown in the Centre for Contemporary Art Ujazdowski Castle in Warsaw in 2004.
This project focused on social and political inclinations of the amateur movement. In my opinion the relation between amateur and professional filmmaking is also a crucial factor, which determined Polish amateur movement. Although many professional filmmakers (e.g. Krzysztof Zanussi) and researchers (e.g. Wieslaw Stradomski) were mentioned it, their opinions were often contradictory. On one hand they were accusing amateurs of senseless attempts to define themselves in opposition to the professionals, on the other – were describing them as not enough talented imitators of the professionals.
This research is based on a study of AKF Sawa, one of the biggest amateur film clubs in Poland."
Paulina Haratyk, Jagiellonian University, Poland
Graduated from anthropology of culture and film studies. Currently working on doctoral thesis about amateur filmmaker movement in Central Europe. Interested in amateur culture, found footage films, nostalgia for communism and independent culture of the Polish People's Republic.
Amateur Film in Soviet Estonia
By Eva Näripea
"The history of Estonian amateur filmmaking can be traced back to the mid-1920s. It became an especially thriving form of expression during the Cold War, when amateur film was provided with an institutional framework, starting from 1958 when state organisations started supporting amateur filmmaking as a regulated form of leisure. Broadly speaking, the post-Second World War amateur production can be categorised into three main branches – family chronicles; newsreels and documentaries, recording both locally relevant gatherings, achievements, etc. and nationally important public events and figures; and narrative shorts of various length, quality and artistic ambition. These films, informed by a broad spectrum of aesthetic, as well as political, attitudes, offer fascinating insights into practically neglected facets of Estonian film culture, which is still, even in its professional manifestations, an under-researched realm of expression.
Starting from 2015, Estonian Academy of Arts will launch an interdisciplinary research project on experiment in Estonian art, architecture and design, which will include a section dedicated to Soviet Estonian amateur film. The working hypothesis is that, although officially regulated to some extent, this material in general constitutes a 'parallel reality' to the fully institutionalised professional film industry, creating space for voices and practices unimaginable in state studios. As the amateur films preserved in the Estonian Film Archives are not digitised and are hence poorly accessible, one of the goals of this project is to digitise a selection of them, and make them available for further studies."
Eva Näripea, Estonian Film Archives; Estonian Academy of Arts
Estonia
Director of Estonian Film Archives and senior researcher at the Estonian Academy of Arts. She completed her PhD dissertation Estonian Cinescapes: Spaces, Places and Sites in Soviet Estonian Cinema (and Beyond) in 2011. She coedited Via Transversa: Lost Cinema of the Former Eastern Bloc (2008) with Andreas Trossek. Her most recent cooperation is an edited volume Postcolonial Approaches to Eastern European Cinema: Portraying Neighbours on Screen with Ewa Mazierska and Lars Kristensen (2014).
19h : Train to Moscow: A Journey to Utopia /Il treno va a Mosca
Documentaire italien et britannique de Federico Ferrone et Michele Manzolini, 2013, 70 min
Sous-titré en anglais et en français.
Un jeune barbier italien et ses amis se rendent au Festival mondial de la jeunesse et des étudiants pour la paix et l'amitié qui se tient à Moscou. Ils rêvent d'un monde de paix, de fraternité et d'égalité, tout ce que représente pour eux l'Union Soviétique. Le film s'appuie principalement sur des films 8 mm tournés en 1957 découverts et sauvegardés par Home Movies – Archivio Nazionale del Film di Famiglia.
The young Italian barber and his friends are going to visit the World Festival of Youth and Students, which is held in Moscow. They dream of a world of peace, brotherhood and equality; in their mind, the Soviet Union has it all. The film is chiefly created from archive footage shot in 1957 on Standard 8 recovered and preserved by Home Movies – Archivio Nazionale del Film di Famiglia.
Samedi 1er novembre 2014
9h-10h : Table ronde 3 : Le film amateur comme phénomène social / Amateur Filmmaking as Social Phenomenon
Avec Melinda Blos-Jáni (Sapientia Hungarian University of Transylvania, Cluj-Napoca), Orsolya Tóth (Sapientia Hungarian University of Transylvania, Cluj-Napoca)
Excavating Amateur Films from the Socialist Romania
By Melinda Blos- Jáni
"Amateur filmmaking wasn't a widespread practice in the socialist Romania, and the few relics of it remained unnoticed, are hidden in the private lives and homes of the former cineastes. Research has to work with fragments of films, pieces of obsolete technology, and interviews, stories about amateur filmmaking. The starting point of this paper is that amateur films are not only embedded in the life of the individual, but also in the time of everyday life, in the history of representational forms and in macro contexts. Through the stories of amateur filmmakers from Transylvania and the history of the workers syndicate Film Club from Târgu-Mureş, we can explore the periods in the symbiosis of moving image and everyday life, the changing domestication process of the medium of film. In the meantime attention will be paid to the impact of state regulation of amateur film collectives and equipment, on the fact that these domestication stories occurred in the socialist Romania. Considering the questions raised by the recently emerged field of media archaeology the paper will focus on stories about amateur film technology (which shifted from a suspicious object to a commodity), on the intermediality of the films (relation between different media parctices) and on the films themselves (metaphoric/abstract storytelling, generic traits)."
Melinda Blos-Jáni, Sapientia Hungarian University of Transylvania, Romania
Assistant professor at the Photography, Cinematography and Media Department. In 2012 she finished her PhD thesis entitled The Domestication of Moving Image Technologies and Media Practices in Familial Contexts. An Anthropological Research. She has presented and published essays on the anthropological aspects and the poetics of home made media and documentaries. Her publications include articles on these topics exploring the intermedial aspects of filmic representation and filmic reception. Research interests: home videos and amateur films, autobiographical documentaries, silent film history, media genealogy.
Capturing Cluj-Napoca: Representing City Life in Amateur Films
By Orsolya Tóth
"My field of research is about filmmaking in Transylvania, especially in Cluj-Napoca. Cluj-Napoca, my hometown is in halfway between the two capitals, Budapest and Bucharest, is the hometown of the Transylvania International Film Festival, and the place where Michael Curtiz and Alexander Korda started off 100 years ago. There was a flourishing film industry in Cluj (1913-1920). In this period local people also started to make amateur films about their town, about city events and also about their family.
My PhD reserch is about what kind of moving images were made about Cluj-Napoca. I found a lot of interesting documentaries, feature films, short movies, educational motions and amateur films also made about Cluj. In my work I am focusing on collecting, and archiving every little sequence made here. In my paper I want to present how did the emergence of filmmaking changed the way of looking and understanding a city. How did the amateur filmmakers use their camera and how they were filming the city."
Orsolya Tóth, Sapientia Hungarian University of Transylvania, Romania
Studies at Department of Film, Photo and Media. Filmmaker – in addition to her own films she participates also in projects of other film directors. She has many experience of organizing film festivals and workshops.
10h30-12h30 : Table ronde 4 : Archiver et valoriser les films amateurs / Archiving and Presentation of Amateur Films
Avec Monika Supruniuk (Filmoteka Narodowa, Warsaw), Marek Šulík (réalisateur et monteur, Bratislava), Nicolai Gütermann (Ludwig Boltzmann Institut für Geschichte und Gesellschaft / Filmmuseum, Vienna), Jan Šikl (réalisateur, Archive of Private Film History, Prague)
Hidden Collection. Amateur Films in the National Film Archive in Warsaw
By Monika Supruniuk
The collection of motion picture films of the Polish National Film Archive is among the largest in Europe. From the beginnig in 1955, in spite of many best endeavors, Polish archivists couldn't establish a separate department for amateur films. Thus an access to this part of a collection is unnecessarily difficult or even impossible.
In this context, an attempt will be taken to specify: how do acquisition and preservation of amateur films take place in the National Film Archive in Warsaw right now? And what major problems have we encountered at work with amateur films and how do we deal with them ?
Monika Supruniuk, Filmoteka Narodowa, Poland
Monika Supruniuk is a fine art conservator-restorer. Graduated from the Academy of Fine Arts in Warsaw, Poland (MA 2011). She works as a teaching assistant at the Department of Conservation and Restoration of Photographic Materials and Decorative Art at her home academy. Futhermore she is a film preservationist at the Filmoteka Narodowa (National Film Archive in Warsaw). Her professional interests include the conservation theory of time-based media and obsolete technology-based art.
What Is Specific for Amateur Films Shot at Slovak Territory ?
By Marek Šulík
Marek Šulík, film director, www.rodinnearchivy.sk
Slovakia
Since 2007, coordinator of project Family Archives, which was focused on private film footage (home movies). The aim of this project was to collect and digitalize amateur film footage from various regions across the Slovak republic. Collecting film material was used for TV series titled The Cans of Time.
Ceci n'est pas un film - Museum Strategies for Amateur Films
By Nicolai Gütermann
Nicolai Gütermann, Ludwig Boltzmann Institut für Geschichte und Gesellschaft, Austria / http://www.filmmuseum.at/
Archivation with Private Limits
By Jan Šikl
Jan Šikl, film director, Archive of Private Film History
Czech Republic
Graduate of Film and TV School of Academy of Performing Arts in Prague. The founder of Archive of Private Film History. Author of Private Century – TV series based on family film archives, which was realized in 2004-7."
19h : A travers le Rideau de Fer (75 min) Through the Iron Curtain
Films amateurs des collections des membres de l'association Inedits / Films from the collections of Inedits members:
Cinémathèque des Pays de Savoie et de l'Ain
Voyage en Yougoslavie 1, Alphonse Delprouve, 1956, 8mm, noir et blanc, silencieux
Voyage en Yougoslavie 2, Margot Lestien, 1956, 8mm, couleur, silencieux

Ciné-Archives
Images de Moscou et du festival mondial de la jeunesse et des étudiants pour la paix et l'amitié, Francis Jégat, 1957, 9,5mm, couleur, silencieux

Cinémathèque de Bretagne
Rendez-vous à Ohrid, Serge di Marchi, 1964, 16mm, couleur, sonore

Archives audiovisuelles de Monaco
Germany, 1960s
ECPAD
Le Danube coule vers l'Est, Hubert de Boisboissel, 1966, 8mm, couleur, silencieux
Berlin, 1973, Hubert de Boisboissel, 1973, 8mm, couleur, silencieux

Pôle Image Normandie
Actualité 1966 (16mm) et Défilé du 1er mai à Teltow, RDA, Rémy et Michel Wermester, 1967, 16mm, couleur, sonore

Cinémémoire
Voyage en Ouzbékistan, Rger Coste, 1986, super 8, couleur, sonore
Národní filmový Archiv
Čas shromažd'ování kameni, Rudolf Mihle, 1968, 16mm, noir et blanc, sonore
Mĕsto mého syna, Vladimir Kunc, 1988, super 8, couleur, sonore